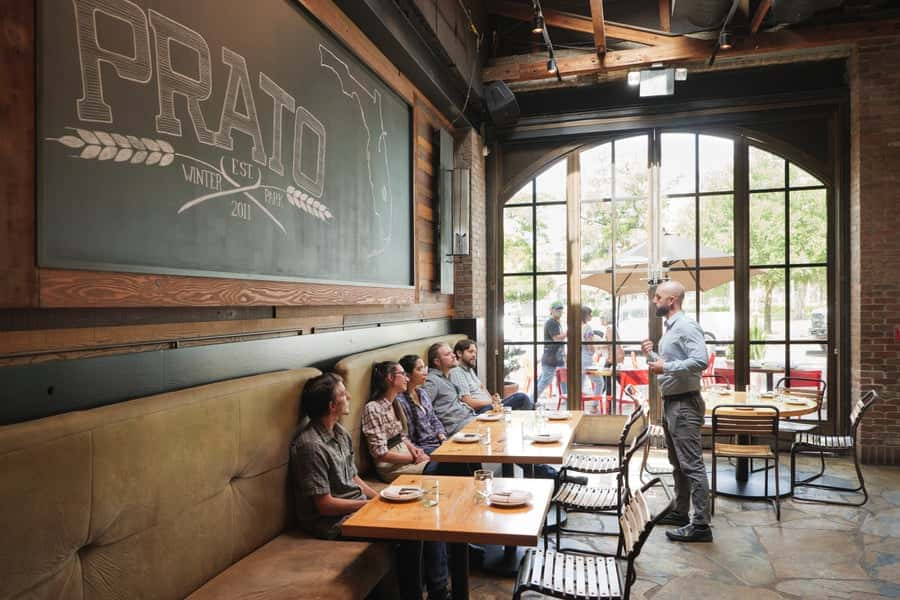 Partner & Chef Brandon McGlamery Featured In Hilton Grand Vacations Club Traveler Magazine
Partner & Chef Brandon McGlamery Featured In Hilton Grand Vacations Club Traveler Magazine
Prato Partner & Chef Brandon McGlamery was highlighted in Hilton Grand Vacations Club Traveler Magazine as one of three key players shaking up Orlando's culinary scene. We're honored to be mentioned and hope to always make Winter Park proud! Check out the full article here, and read the excerpt below.
Thank you, Terry Ward (writer) and Brian Carlson (photographer) - we appreciate the inclusion!
---
// With its leafy, cafe-lined streets, the fashionable neighborhood of Winter Park near downtown Orlando wouldn't look out of place in Europe. Cozy Italian restaurant Prato — with its rustic farmhouse-style interiors and tables cascading out onto scenic Park Avenue — further adds to the evocative vibe. Packed to its open-frame wood rafters on any given evening, Prato is the brainchild of celebrated Orlando chef Brandon McGlamery, who is a two-time semi-finalist at the James Beard Foundation Awards. The 48-year-old first honed his culinary skills at famous restaurants, including The French Laundry in Northern California and Bacchanalia in Atlanta, before launching the now-closed Luma on Park in Orlando in 2006. He went on to open Prato in 2011, to great acclaim.
At Prato, Brandon's culinary ethos is driven by simplicity and purity of ingredients. At least one component in every dish is touched, in some way, by the wood-burning fire in the restaurant's two Acunto ovens imported from Italy. For instance, the radicchio in the mustard spaghettini cacio e pepe is given the open-fire treatment. The same goes for the savory onions that top the veal meatballs (a crowd favorite), the latter of which are also hearth-roasted in-house. "I try to cook really good food that piques people's interest," he explains.
Over the years, Brandon has witnessed Orlando's birth as an up-and-coming culinary destination. "Some of the city's best restaurants are tucked away in cool communities and neighborhoods north of the theme parks," he observes. And with the growth of neighboring Tampa, he sees the area west of Orlando as fertile ground for new restaurants in the future, too. "Diners have the means to travel, and they're looking for big-city treats in our little-city community," he says. //